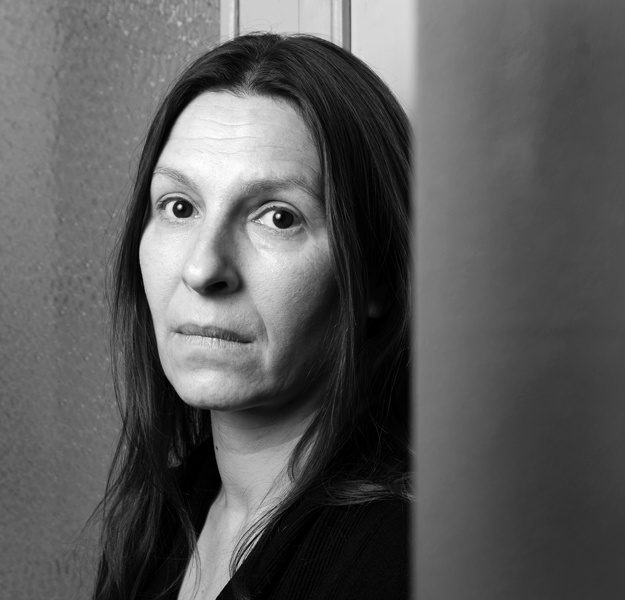 Svetlana Yancheva was born on the 31st of October 1964 in Burgas.
She has an MA degree in acting for dramatic theater from National Academy For Theater and Film Arts. She graduated from it in 1986г. in the class by prof. Nikola Ljutskanov.
Currently she is an actress in "Zad Kanala" Small City Theatre.
"Zad Kanala" Small City Theatre
,,The Drunks" by Iv. Vyrypaev, dir. Yavor Gardev
"Girlfriends of Mine" dir. T. Moskov
,,The man Who Wanted" by A. P. Chekhov, dir. Margarita Mladenova
"The Maneater" Iv. Radoev, dir. B. Haralampieva
,, The Beauty Sleeps" dir. T. Moskov
,,Animal on The Throne" by Carlo Gozzi ,dir. T. Moskov
,,Golden Bridges and Sequoia" by K. Iliev, dir. B. Haralampieva
"Seagull" by A. P. Chekhov, dir. Galin Stoev
,,Golemanov" by St. L. Kostov, dir. M. Kurkinsky
,,At the Foot of Vitosha Mountain" P. Yavorov, dir. L. Abadjieva
,,Valentine's Day"by Iv. Vyrypaev, dir. Yavor Gardev
,,Sleep with Me " H. Kureishy, dir. B. Haralampieva
,,The Apocalypse Comes at 6PM" by G. Gospodinov, dir. M. Mladenova
,,Pearl" by M. Razi, dir. B. Haralampieva
Sfumato Theatre Laboratory

"Seagull" by A. P. Chekhov, dir. I. Dobchev & M. Mladenova
,,We play Petrushevska" dir. M. Mladenova
,,Crazy Grass" by Y. Radichkov, dir. M. Maldenova                            ,
,Apocryph" dir. Iv. Dobchev & M. Mladenova
,,Uncle Vanyo", by A.P. Chekhov.dir. Iv. Dobchev
,,Three Sisters" by A.P. Chekhov.dir. М. Mladenova
,,The dream of Orpheus" dir Y. Gardev
,,Quartet" by H. Muller, dir. Y. Gardev
,,The Dance of The Death" A. Srindberg, dir. M. Mladenova
Ivan Vazov National Theatre
"A Midsummer Night's Dream" by Shakespeare dir. A. Morfov
,,Verona" A. Shipenko, dir. Y. Gardev
,,Life is Beautiful" N. Erdman,  dir. A. Morfov
,,Hamlet" by Shakespeare, dir. Y. Gardev
,,Seascape" by Еd.Albee, dir. P. Denchev
,,Joan" by Yr. Pulinovich, dir. Y. Gardev
,,Delhi Dance" by Iv. Vyrypaev, dir. G, Stoev
199 Theatre Valentin Stoichev
,,The Play About the Baby" by Ed. Albee, dir. Y. Gardev
"Me, The Countess", ,,Something in the Air", ,,God came to visit us"- dir. Petar Popzlatev
,,Letter to America", "The Investigation", ,,Lift for Patients" – dir. Iglika Triffonova
"Warming up Yesterday's Lunch", ,,The Sinking of Sozopol" – dir. K. Bonev
"Rhapsody in White", dir. T. Moskov
"Thirst'', ,,Life with Sophia"- dir. Sv. Tsotsorkova
"Ave'' dir. K. Bozhanov
,,The Color of the Chameleon" – dir. Em. Hristov
,,Zift" – dir. Javor Gardev
,,The Faith is a Rat" – dir. Iv. Pavlov
"Lost and Found" – "The Ritual" – dir. Nadejda Koseva
"Running Dogs", "Emilia's Friends" dir. L. Todorov
"Lonely Harts" dir. V. Goshev
"Pride" dir. P. Vesnakov
"My Friends call me Old Chap" – dir. Iv. Hristov
"The Forth Power" – TV serial
"8 minutes and 19 seconds" ("Faces From the Last Day") dir. Ljubomir Mladenov
ASKEER for best supporting female actress for "Crazy Grass"
АSKEER for best female actress for The Dance of The Death"
Best actress from The Society of Independent Critics for "Life is Beautiful"
Best actress from The Union of Bulgarian Film Society for ,,Me, The Countess"
"Golden Rose" for Best film and The Prize from The Union of Bulgarian Film Society for "Warming up Yesterday's Lunch"
Best Cast Award  from "Listapad" Minsk, Belarus IFF for  "Thirst"